Energize your workplace with on-site chair massage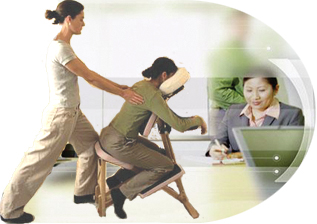 Advanced Alternatives Massage On – Location provides our corporate clients with a competitive edge by enhancing the performance and well-being of a company's most important asset – its employees.
Chair Massage is specifically suited to relieve stress in high-tension areas and promote a renewed sense of energy, well-being and vitality.
Weekly, bi-weekly or monthly visits will keep your employees healthy, happy and stress-free.
Chair Massage visits are also an effective way to ease tension and boost productivity during stressful periods or "crunch time."

Advanced Alternatives Massage On-Location integrates easily into your workplace – making it easy for you to offer the healthy benefits of chair massage at your company. Call for a Custom Quote (Rates as low as $65 per hour per therapist ***)
Available in Tallahassee and surrounding areas
Contact Us for more information
Our All-Inclusive Rates Include:
Transportation to your Site
Equipment Set-Up
Licensed and Insured Massage Therapists
Professional Massage Chair
Relaxing Music and Aromatherapy
Here's how it all works:
Contact Us to schedule your appointment
Let us know the number of employees who will be receiving massages
Select a day and time for us to visit your company
Reserve a "massage" space in your office for that day
We'll provide options for your Scheduling System
Employees reserve their appointment times
On "Massage Day," therapist will arrive 20 min. before the start time
The therapist sets up their massage chair, soothing surround-sound music and aromatherapy
Everyone gets their stress-relieving chair massage break
Employees return to work relaxed, refreshed and revitalized!
We Accept:
Visa
Master Card
Cash
Local Personal Check
FOR INITIAL VISITS, PAYMENT IS DUE ON OR BEFORE THE DAY OF SERVICE. SUBSEQUENT VISITS MAY BE ELIGIBLE FOR REPEAT CLIENT DISCOUNTS.
RATE VARIATIONS: Rates are variable depending on a number of factors, including location (city), size of job & visit frequency. Volume discounts are available for recurring company sponsored visits. We also offer a 10% discount to non-profit organizations.
*** PRICE-MATCH GUARANTEE: Pending verification, we will match or beat our competitor's bid on your job. Bid must be from a legitimate chair massage company servicing your area.
CANCELLATION / REFUND POLICY: Full refund will be provided for all cancellations made at least 48 hours prior to the appointment time. Cancellations received from 24-48 hours before a confirmed appointment will be subject to a cancellation fee equal 20% of total invoice for that day. Cancellations received less than 24 hours before a confirmed appointment are subject to a Cancellation Fee equal to 50% of the invoice total.
Did you know?
Research indicates that a 15-minute chair massage results in decreased job stress, increased alertness and increased speed and accuracy on math computations. (1)

Office workers massaged regularly were more alert, performed better and were less stressed than those who weren't massaged. (1)
Up to 90% of all visits to primary care physicians are for stress-related complaints. (2)
Stress accounts for $26 billion in medical and disability payments and $95 billion in lost productivity per year. (2)
Over 50% of lost work days are stress related which keeps about 1 million people per day from attending work. (2)
Health care expenditures are nearly 50% greater for workers who report high levels of stress. (3)
40% of job turnover is due to stress. (4)
Field, Ironson, Pickens et al. (1996). Massage therapy reduces anxiety and enhances EEG pattern of alertness and math computations. International Journal of Neuroscience 86, 197-205
Occupational Health and Safety news and the National Council on compensation Insurance (U.S.A.)
Journal of Occupational and Environmental Medicine
American Institute of Stress
Corporate Massage offers benefits for:
Companies
Increases Employee Retention
Improves Productivity
Enriches Corporate Culture
Decreases Absenteeism
Helps Recruit Top Talent
Improves Job Satisfaction
Improves Overall Company Health
Employees
Relieves Fatigue
Lowers Anxiety & Hostility
Enhances Creative Thinking
Improves Problem Solving
Strengthens Immunity
Helps Prevent R.S.I.
Lowers Muscle Tension & Pain