Our goal at Advanced Alternatives is to provide the appropriate care to each client with every massage. Whether you're visiting us for a relaxing massage, recovering from an injury or we're helping you manage an existing condition, we're going to customize our massage therapy to meet your needs.
The following is a review that was left by a client who said they, "left feeling so much better."
We appreciate hearing that! And we're sure the massage felt good to her. Below is the actual review from our client. We thought we'd share it with you.
First visit today — Ainura is amazing! I left feeling so much better and appreciate her expertise and professionalism. I can hardly wait for my appointment next week.
And our reply…
Christi, thank you for coming in! I'm so happy Ainura was able to take great care of you, and I really appreciate your review! And thanks to Shannon for the referral! Hope to see you both soon!

See the actual review below or click through to our Facebook page!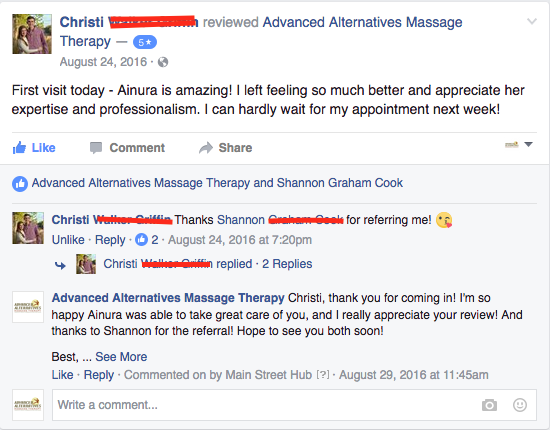 Can We Help You Get a Better Massage?
Our skilled massage therapists can offer a variety of massage therapy solutions to help you.
We're here for you! Please contact our office and schedule a time to visit our office. Call 850-325-1331 to learn more or schedule an appointment.