Our goal at Advanced Alternatives is to provide the appropriate care to each client with every massage. Whether you're visiting us for a relaxing massage, recovering from an injury or we're helping you manage an existing condition, we're going to customize our massage therapy to meet your needs.
The following is a review that was left by a client who said they, "look forward to every session."
We appreciate hearing that. And we're sure the massage felt good to her. Below is the actual review from our client. We thought we'd share it with you.
Cynthia Cowen from Advanced Alternatives came highly recommended by my previous massage therapist of 3 years, when she retired. I was sad that she did, but trusted her recommendation and booked by first appointment with Cynthia. I'm sure glad I did, as Cynthia was every bit as good as my previous therapist had said she'd be. Cynthia has a unique style of combining deep tissue with a holistic approach focusing on my entire well-being. I look forward to every session with her and am happy to say that I have surely found a new therapist!.
And our reply…
Neha, we're so glad you ended up working with us! Cynthia's a talented therapist, and I'm so happy you agree. I'll be sure to let her know. See you soon!
See the actual review below or click through to our Facebook page!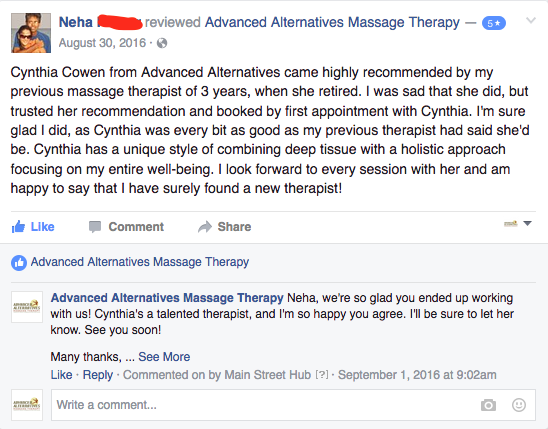 Can We Help You Get a Better Massage?
Our skilled massage therapists can offer a variety of massage therapy solutions to help you.
We're here for you! Please contact our office and schedule a time to visit our office. Call 850-325-1331 to learn more or schedule an appointment.