Well…we're not sure if it was 'the best massage ever' given in Tallahassee, but a review from a client of ours that says it certainly feels nice to hear. And we're sure the massage felt good to her. Below is the actual review from our client. We thought we'd share it with you.
Cynthia was wonderful and my mom said it was one of the best massages ever.
And our reply…
I'm so happy to hear that your mom loved her massage! Thank you for the review — hope to see you both again soon!
See the actual review below or click through to our Facebook page!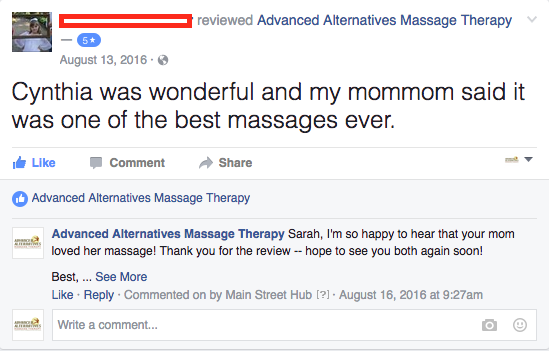 Can We Help You Get the Best Massage Ever?
Our skilled massage therapists can offer a variety of massage therapy solutions to help you.
We're here for you! Please contact our office and schedule a time to visit our office. Call 850-325-1331 to learn more or schedule an appointment.